Chapter 14 - Section 9
Wing Bolt Access & End Lay-Ups
Wing Bolt Access Holes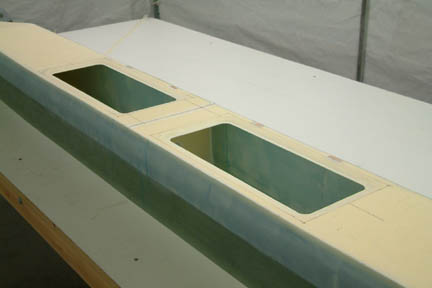 I marked up the wing bolt access holes per plan. It consists of three (3) rectangular rings. The inner most is the 5"x13" rectangular ring for the cut out. The middle one, which is about 1/4" wider, is for glass to glass joint. Lastly, the outer most ring which is 1/2" wider than the middle ring, where the foam starts to slope towards the cut out hole.
I used the FEIN tool to do a rough cutout (inner ring), then I used a Dremel (with a vertical holding fixture and sanding disc) and trimmed the edges all the way up to the inner ring. Raising the height of the sanding disc to just above the underlying glass surface, I then removed the foam up to the middle ring. Lastly, I removed the Dremel out of the vertical holding fixture to form the slope between the outer ring and the middle ring.
2 Ply UNI Lay-Up
If you have done the UNI lay-ups in previous sessions, this one is duck soup. Just needed a bit of poking and shuffling to get the UNI to lay down nicely along the beveled edges around the access holes. The width of the UNI strips that I pre-cut were 10 1/2" wide. It needs 3+ strips per layer. Don't forget to round off the edges before the lay-ups and alternating the UNI layers.
End Lay-Up
I did the end lay-ups first because I did not have a 2 1/4" hole saw. I used a Dremel and a stone bit and trimmed a small flox trough all the way around the outboard bulkheads. Lay-up 1 layer of BID and trimmed the edges after cure.
Wing Bolt Access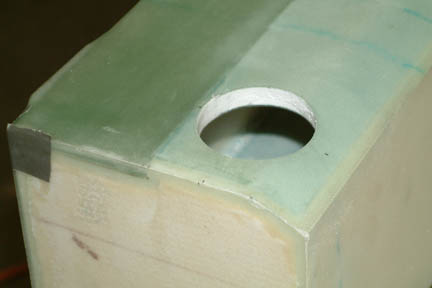 I purchased a 2 1/4" hole saw from Lowe's and cut the holes in the spar without any problems. After removing a bit of foam inside the hole by rubbing it with a scrap piece of similar foam, I applied dry micro and smoothed it out with a stir stick.
Once cured, I sanded the micro down with fine sand paper so that it is nice and smooth.