Chapter 15 - Section 1
Rudder Cable Brackets
The rudder cable brackets, especially CS72 look kind of hard to make. So I bought them from the Cozy Girrrls. There are two set of brackets for each rudder - CS71 and CS72.
CS-71 Rudder Brackets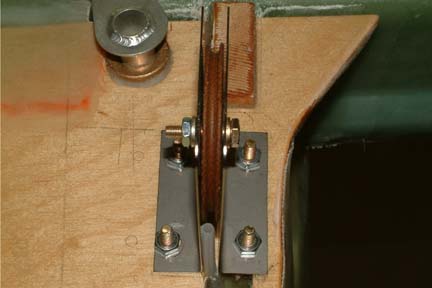 These brackets were straight forward. My difficulty was fitting the holes through the blind screws - that we installed in Chapter 4. My blind screws were coming out like the spikes of a porcupine - makes me appreciate good workmanship! It took me a couple of hours to get them to fit in nicely and square. Especially since the Cozy Girrrls made them out of steel instead of aluminum.
Note the nylon tubing for the rudder cable coming out right underneath the pulley between the brackets? Perfect!
CS-72 Rudder Brackets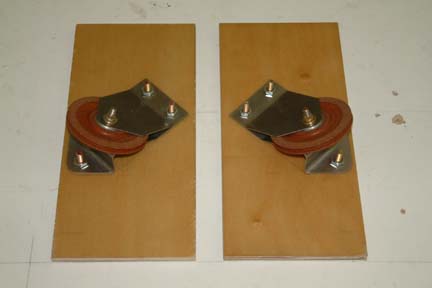 Fitting these brackets was a bit tougher because of fitting 3 holes instead of 2 and in more of a 3D formation. No kidding, when the plan says 'adjust the mounting holes as required'

. I first put a bolt through the center of the bracket set with washers to fill in the gap in between. After another couple hours of head scratching, I finally got the holes filed, drilled and ground to fit the blind screws.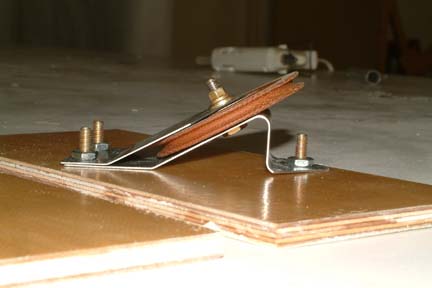 Here's a side view of one of these bracket assemblies.
I left this chapter early on because I was far from having the firewall in place and ready...
[Hindsight] I returned to this page after I received my engine and was getting ready to mount it. I am glad I waited because the fiberfrax and the SS would have covered up all the dimensional markings and most importantly, the hard points where we drill the holes for the engine mount. Now onto Section 2 of this Chapter.