Chapter 21 - Section 3
Inside Lay-ups
As mentioned in prior sections, I built the fuselage rollover clamshell before attaching the bottom skin. This way I can assure a good match between the left and right bottom skin profiles. For my build, this section actually follows Section 7.
Bottom Skin Profile at Fuselage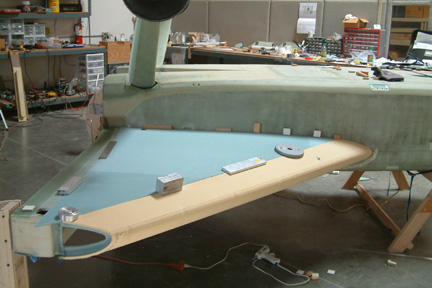 As mentioned in prior sections, I measured out both the top and bottom skin profile (right) at the fuselage and transferred the same to the left strake. I used WL17.4 as the datum line. Once they were traced out, I hot glued a series of small wood blocks along the profile to support the bottom skin. The more important blocks are hidden under the bottom skin.
Once completed, I re-fit the skins in place and weighed them down. Then I lay down underneath the strakes to inspect and take a mental note on the contact surfaces and potential gaps.
Closing the Bottom Skin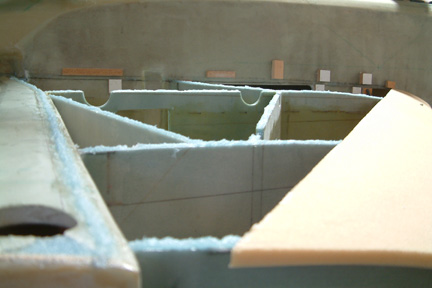 I removed the bottom skin and applied a thick bead of flox along the top edges of the ribs and bulkheads. Then I carefully lay the bottom skin back on and applied all the necessary weight to keep a nice bottom skin profile.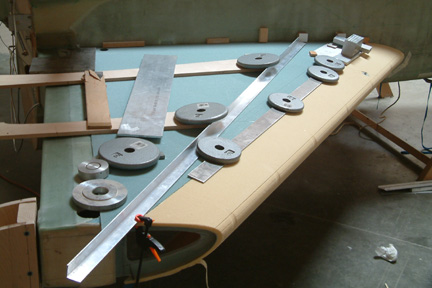 Here's a picture of the bottom skin weighed down...Looks messy, but all the seams line up nicely.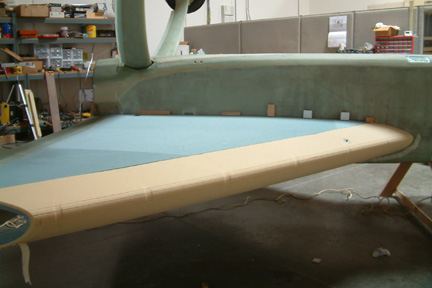 Here's a picture of my port side bottom skin after its floxed in and...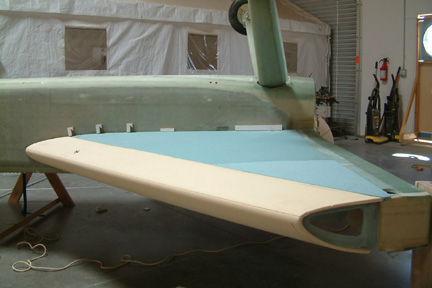 starboard side. They look pretty symmetrical.
Once the bottom skins were cured, I flipped the fuselage back over and taped down all edges and bulkheads with 2" wide 1 layer BID (and flox corners) per plan.
Fuel Resistance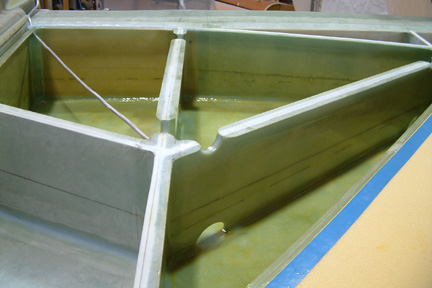 There has been a lot of discussion on the resistance of our epoxy to various types of gas available for our airplanes. I used MGS 285 and at this time, I was not able to find any specific confirmation that MGS 285 is OK to line our fuel tanks. Many projections and assumptions - nothing specific such as a published laboratory test result. Right about this time, John Slade published his problem with auto fuel in his tanks (he used MGS 285). Though I am not planning to use an auto conversion engine, I decided to line my fuel tanks with E-Z Poxy (per Gary Hunter's recommendations) for peace of mind.
I bought a quart of E-Z Poxy and 87 Hardener from Aircraft Spruce and brushed on 3 coats. It took me almost a whole day for the process because I had to wait for each layer to cure to the tacky stage before brushing the next layer.
Pin Holes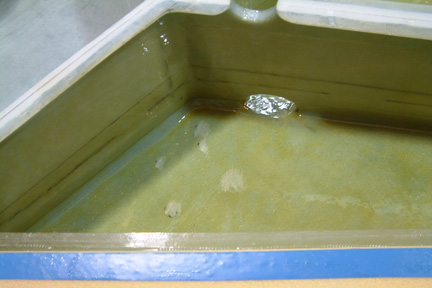 I returned the next day and, to my surprise, I found numerous pin holes on the newly epoxied surface

. It looks like the E-Z Poxy receded from small spots (pin to pencil head sizes) overnight. I ended up sanding the pin holes down to the glass and re-sealed them with a new layer of E-Z Poxy.
Picture (left) showed sanded down pin holes.
Off to Section 4...