Chapter 23 - Section 11
Fuel Filter
Fuel filter is certainly an integral part of our fuel delivery system. Its function is to keep all the dirt and debris from entering the engine. In summary, my fuel delivery system is as follows:
Fuel tank
--> Sump with drain valve (allows heavier than fuel contaminants, water to sink to the bottom);
--> Finger filter / screen per Plan (block out suspended large debris from entering the fuel line);
--> Fuel selector;
--> Fuel filter (125 micron by Airflow Performance P/N 1090079);
--> Electric boost pump (Airflow Performance P/N 3090050);
--> Firewall;
--> Mechanical fuel pump;
--> Engine.
Plumbing and Installing the Boost Pump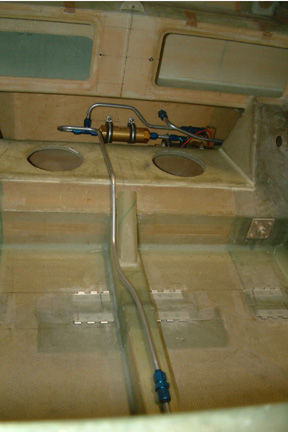 I followed Airflow Performance Fuel System Schematic in plumbing the fuel filter and electric boost pump since I am using both of their products. The plumbing was rather tedious and I had many trials and errors until I was satisfied with the outcome. Though I needed about 30+", my fuel line stock went from 120" to 25" with a box full of bent up / cut up tubing.
I mounted the boost pump at the back hole of the fuselage. I also kept the entire assembly below the fuel entrance ports (at the sump). Therefore, if the fuselage is leveled, fuel will flow from the sump to the exit port (at the fire wall) without the help of a pump.
As you can see, there is not much room in the fuselage aft cavity, especially with the objective of keeping them below the fuel entrance port waterline. The entire assembly was held down by 4 heavy duty Adel clamps. The clamps are then bolted down through the firewall.