Chapter 24 - Section 3
Front Seat Thigh Support
I traced out the thigh support (ribs) profile according to M12 and M13. I happened to have left over glassed pieces from the strakes chapter (ribs). Therefore, I made the best use of them - saved me a bit of glass work.
Thigh Support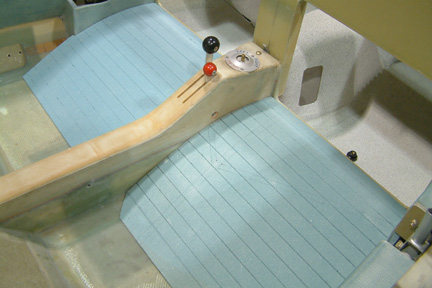 I started with a paper template because its much easier to trim and fit. Using the template, I traced the seat outline onto a 3/8" thick foam. I had 2 layers of glass on one side already (excess from previous parts) for the thigh support. I sliced up the foam side (1" apart) per plan.
With the ribs hot-glued squarely on my work bench, I hot-glued the thigh support onto the top of the ribs.
Here's a picture when trial fitting the thigh support in place. Due to the unique curvatures along its edges, I had to do quite a bit of fitting (especially for the front seat edge) for it to sit flush and snug. Just good old trial and error...
Hinged Thigh Support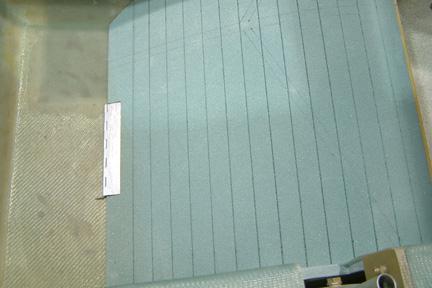 Just about every Cozy builder added a hinge at the back of the thigh support such that they can flip it open for easy access. I carved an indentation on the thigh support foam so that I could embed a 5" long hinge.
Glassing the Rib Supports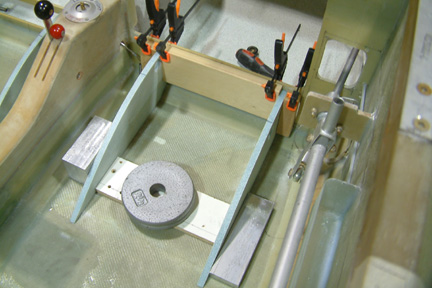 I clamped the ribs in place with wood blocks such that they are seated squarely with the Instrument Panel. First, I held them in place (at a few locations) with 5-min. epoxy. Once the 5 min. epoxy cured, I removed the clamps and blocks. Then I glassed the ribs in place with BID and peel-plied.
Glassing the Thigh Support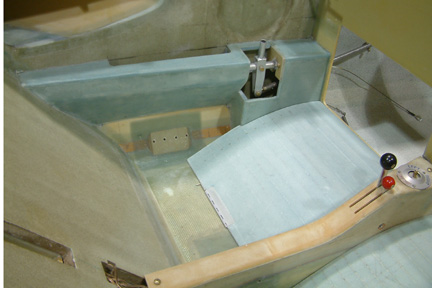 I glassed the thigh support on the work bench because it is more accessible. In addition, I can trim the edges for a tight fit along sides of the armrest and center console. Here's a picture of the thigh support glassed (2 layers BID & peel-plied) and fit in place.
Thigh Support Lip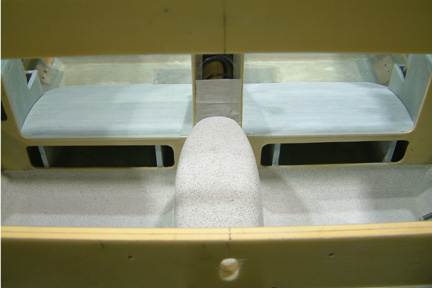 I added a lip that bridges the forward edge of the thigh support over the instrument panel. I don't think it makes much functional difference, it just looks more complete.