Chapter 25 - Section 3B
Filling and Sanding - Canard
I am sure all Cozy builders recognized how important the airfoil shape of our canard is. By our usual filling and sanding, I may easily alter (a least a bit) of the airfoil shape of the canard. Rather not taking any chances, I decided to make two sanding blocks (as other builders have) for some assurance. My top and bottom sanding blocks were made out of 5 - 3/4" thick plywood, stacked/bolted together. One side is shaped using the canard drawing profile from out Plans.
Canard Top Profile
Here's a before and after shoot of my fill and sand, using the sanding block. As shown on the left picture, there's a small gap at the spar cap area (before fill and sand), which is normal among builders. I did a pre-fill over the spar cap area and performed a preliminary sanding. Since the front surface matches the Plans profile well, I decided to apply packing tape (on the sanding block) over that section such that no sanding over the leading edge. My sanding paper actually started from the spar cap leading edge to the trailing edge of the of the canard.

As I get really close to completion, I removed the sanding paper from the sanding block. I smoothed out (slightly) the entire canard with a home made 5' straight sanding block. This canard sanding block was use as a gauging block through completion.

Similarly, I did the same with the bottom side of the canard. As show, the sanding block and the resulting canard bottom profile.
After filling all the low spots and pin holes, I primed the canard with Southern Polyurethane primer. It looked smooth and reflective (left).

After closer examination, I noticed slight dips and ridges that was highlighted by the reflective lighting. It did not take me long to decide to sand and fill one more time. This time I used guide coat and fill the dips with Dolphin Glaze. See all the spots I missed just by filling and sanding by eye? It was not as bad as the first time, but it's significant!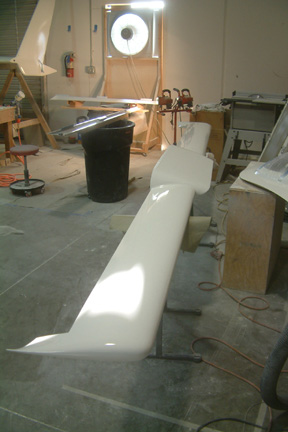 Here's a picture of the canard after I re-primed. It looks much better. It's hard to tell in the picture. There are no more bumps, pin holes, orange peels type of flaws anymore

.