This is going to be my favorite page for recording our Cozy building process. The purpose of this page is to record people related and unforgettable memories that made our journey so enjoyable and meaningful. Someday, in time, when looking back, they will bring smiles and warmth to our hearts.
Our First Flight (May 2005)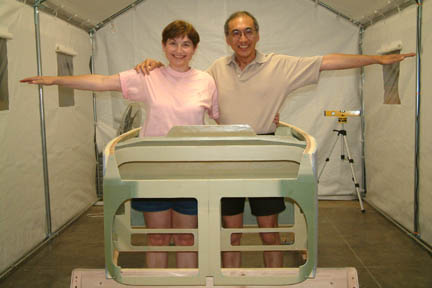 It was our 31st anniversary and I promised Susann that I'd have a nice surprise awaiting. I got her to climb in the newly completed fuselage and announced that the First Flight is about to commence! Susann graciously accepted my invitation and joined me for a wonderful ride...
Here are the first flight results:
Visibility - great! no obstruction whatsoever;
Comfort Level - fair... Susann didn't care for the standing room only excuse, but I promised her that the situation will improve once I finished Chapter 6 & 7;
Maximum Altitude - 20" (notice the saw horse the fuselage is sitting on, but it is above ground technically);
True Air Speed (TAS) - ok, its a bit slow ... 0 knots.
Landing - it was so smooth, didn't even know we landed.
We are not fast builders - but we are enjoying the process tremendously!
So much for the joy ride, back to building...
My First Visit To A Cozy Builder (Wayne Hicks) July 2005
At the time I am in Chapter 7, a rookie in this building game. I was visiting a few customers in the Washington DC area and needed to stay over for the weekend. I learned that a 'senior' builder, Wayne Hicks, is stationed in the area. I have been referencing Wayne's web site since I started my Cozy journey. I followed his famous up-side-down fuselage assembly approach as many builders before me. BTW, the term 'senior' refers to his building experience, not his age

.
A quick e-mail request resulted in a quick response from Wayne -- "A visit any time that week or over that weekend is okay by me... just let me know when". My first reaction was a definite Yeah Baby

how accommodating... then I thought "any time?"... don't these Cozy builders have to work or are they just committed to the cause?
A couple more e-mails and phone calls set me in motion on the following Sunday morning. I left DC and headed south. I drove, and drove and drove some more for ~4 hours until I spotted that distinct winglet - peaking out from behind a half opened hanger door...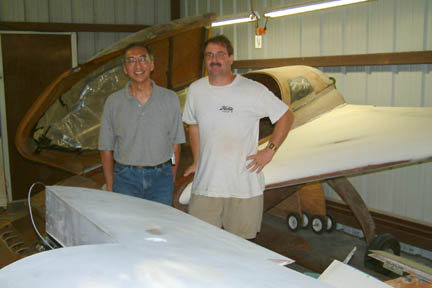 Beginning with a greeting handshake to a so long handshake - Wayne gave me 7 hours of invaluable education, building ideas (such as his landing gear cover), special jigs and fixtures, jigs for shaping the nose, nose lights, shaping of the canopy, effective sanding tools, his well discussed sand blasting technique and above all his personal experience with the Cozy(s). If I include what I learned from Wayne today, it will be a 25 page paper. I was starting to get overloaded with information by the last hour. Adding icing on the cake, Wayne offered to take me up in a Cozy III. Unfortunately, hurricane Dennis was coming through and we were witnessing an unprecedented thunderstorm and lightning. That will have to be another day... but I know I'LL BE BACK! Regardless, I got to compare the sitting arrangements between a Cozy III and a Cozy IV. The 4 hours return trip was not as bad, because I was day dreaming all the way home - the visit was well worth the drive.
I would like to take this opportunity to thank Wayne for his generosity with his time and knowledge. I enjoyed the visit TREMENDOUSLY and I know it will help me excel in my build. I would also like to thank his wife (though we didn't meet) for allowing me to take Wayne away from home on an otherwise relaxing Sunday afternoon.
First Ride
Though I have been building the Cozy for 9 months, I have never flown in one. My first ride opportunity came on a Saturday Morning (August 27, 2005) when Keith Spreuer called (unexpectedly) and graciously offered me a ride to the Big Bear Lake (a mountainous resort northeast of Los Angeles). I rushed out to Chino Airport in about 30 minutes. Keith had already arrived sipping a glass of lemonade - it was a HOT day! Keith pre-flight his N91KS while I watched. He showed me how to get in, hooked up (safety belts and head sets) and then, off to the run-up area.
My first impression was that the plane was much smoother than the Piper Archers that I used to fly. It has less leg room but the visibility is, by far, much superior. Keith let me taxi to the run-up area and I adapted to the feel of the brakes quickly - it has a great turning radius!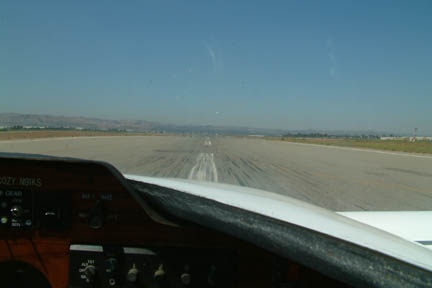 As we were cleared for take off, we had a bit of difficulty locking the canopy (we eventually attributed to the 104oF heat). In the back of my mind, I was always concerned that I may feel claustrophobic with the canopy. Not so, my dear - once the plane started down the runway, the canopy disappeared and the sense of openness took over. By the time we took off, our coolant temperature was approaching into the red zone. Keith took off in a shallow climb out while watching the temperature guardedly - meanwhile I was having a THRILL OF MY LIFE

(Sorry Keith - I couldn't hide the excitement!). Unfortunately, the temperature stayed high and we thought it would be better not to push for the climb up the mountains. Keith entered into the 45o downwind to 26L and landed very nicely.
While we waited for the coolant to cool down, Keith shared with me his thoughts on his various instruments, headset, antenna arrangements and canopy mounting approach. As I watched, Keith took off for home in his N91KS, I now realized (first hand), that the Cozy is indeed a fantastic flying machine.