This is going to be my favorite page for recording our Cozy building process. The purpose of this page is to record people related and unforgettable memories that made our journey so enjoyable and meaningful. Someday, in time, when looking back, they will bring smiles and warmth to our hearts.
Our Second Flight (November 2006)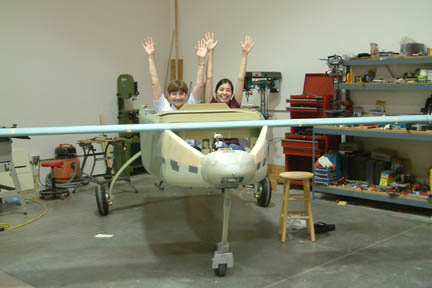 This occasion came as I completed the nose wheel installation in Chapter 13. Our Cozy was able to stand on its own three wheels for the first time. Since I have the EZ nose gear, I was able to raise and lower the nose with a flip of a switch

. I have yet to hang the rudder pedals and make the nose cover on this chapter.
Our daughter, Cassandra, was visiting home from College and decided to check out our project. I got Susann and Cassandra to climb into the front seats and raised them up with the electric nose lift (with some help from me as well). Since I can only roll them around ... I think they mistook it for a roller coaster

. Maybe that's why they were having such a great time! It's just great to see the family having fun with the project well before we can take it to the sky!!!
When it was my turn, I got in with Susann and set the plane in its parking configuration. Since neither one of us is tall and broad, the cabin space was not too tight for us - not quite as roomy as our family van though. Just takes a bit to getting use to when getting in and out.
Notice we had an exciting time doing our 'virtual flying' through LAX (Los Angeles International Airport)

.
Visit by a Certified Technical Counselor (November 2006)
I was very fortunate to receive an official visit from Keith Spreuer on November 13, 2006. Keith is an EAA (Experimental Aircraft Association) Technical Counselor. He flew into Chino Airport that evening and I picked him up there since I am only ~3 miles from the airport.
He gave my project a thorough review. We went through my building processes, techniques and methods. He checked on measurements at various locations - see that digital level across the top of the fuselage? BTW, it registered 0.0 degrees sideways and 0.1 degrees front to back! He also checked on the modifications I have made that deviate from the plan. My modifications include the rudder pedals, landing light, nose bumper and ballast compartment. In the end, I got a good overall evaluation

.
However, I didn't get off the hook that easily, there were a few things I need to correct, they include:
- replace the aluminum strip in the nose cone (for supporting the ballast) with a stronger one such as an angle aluminum for better strength;
- add four spacers between NG-2 and NG-1L;
- add an AN-3 bolt through NG-15A and the strut.
Keith also provided a few valuable recommendations:
- seal up the openings (around NG-30 that leak cold air) before closing up the nose cover;
- hold off on installing the nose cover until I am ready for the canopy for better contour transition;
- plan on 180 to 200 lbs for brake cylinder support accordingly (since I am using a different rudder pedal design).
As I watched Keith depart into the night sky in his Cozy IV, it reflects what my project can become if I stay on course. Thank you, Keith, for sharing your experience, the encouragement and above all, helping me to build a safe airplane!
Visit by a Well Respected Cozy Flyer (Marc Zeitlin December 2006)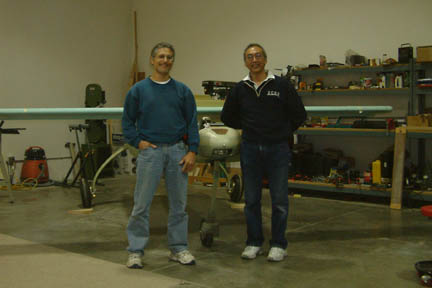 Marc Zeitlin is a well respected member of the canard community because of his knowledge, experience, personal contributions to the community and above all, his unwavering support to new builders (like me). He was visiting the Los Angeles basin for business and I seized the opportunity and requested his visit to my project. After a few e-mail exchanges, Marc arrived on a Wednesday evening - after fighting the LA traffic for 2 hours! I am doomed

...
Within a short couple of hours, Marc went through my 2 1/2 years of work without missing any critical elements. He spotted all the items that I deviated from plan such as my canard alignment tab pins, landing light, rudder pedals, nose bumper, the added radius on the NG30, even a single nut plate that I added (inside the nose cone) for securing future ballasts - I was impressed

! Then he helped me to mount the canard and check out my alignment pins and the center section spar that I am in the process of building. I also got to demonstrate the electric nose gear, landing brake and landing light.
Then I whipped out my laundry list of 'tough questions'... and solicited his opinions on my rudder pedals, nose bumper, antenna positions, and canard alignment tab pins design configuration. I am happy and relieved to report that I did not get shot down in flames

. On the contrary, Marc was very supportive and offered valuable advice and enhancements.
A couple of corrections and add-ons were recommended:
- Use longer bolts for the main landing gear hard points (minimum 2 threads showing - I ought to know better);
- add a secondary static port onto the right side of the aircraft;
- add a set of fences at the nose for additional ballast compartment due to my light weight (reference Wayne Hicks' approach);
- with the ruggedness of the rudder pedals, it may be OK to mount the brake cylinders, one on each side of NG-30;
- either a nut plate or alignment pin (with carter key) will work for the canard alignment tab.
As it was getting late, we decided to have dinner. Unfortunately, Marc was under the weather a bit and preferred to eat light...(I would have offered him a 12 main course dinner - but not tonight

). As Marc departed and headed south, I kept thinking what a great decision I had made, 3 years ago, on building the Cozy! Thank you Marc for the visit and support!