This is going to be my favorite page for recording our Cozy building process. The purpose of this page is to record people related and unforgettable memories that made our journey so enjoyable and meaningful. Someday, in time, when looking back, they will bring smiles and warmth to our hearts.
Flying a Cozy Mk IV the First Time (July 2007)
I received a call from Keith Spreuer (my EAA Technical Counselor) on a Sunday evening and he invited me to ride with him to take some gross weight flight data. Gross Weight Data? I am only 140 lbs...but I was not about to give up this opportunity, I figure I'll put 50 lbs of lead in my pockets for the occasion

.
Keith arrived at Chino Airport around 5:15pm on Wednesday and it was a rather hot day. He decided to let the water temperature cool down a bit before going up for more data (Keith had just installed a new Subaru engine). We decided to check out my project (~3miles away) first and make it an official technical counselor visit. We went through the center section spar & its mounting result; attachment of the main wing to the spar; torque tube controls and adjustments; rudder pedal cable connections; the manual roll trim; the electric (Strong) pitch trim and my modification to the system; and my partial build on the center console, throttle quadrant and fuel selector. We returned to Chino Airport at about 6:30pm.
K91S had cooled down substantially. We took off on runway 26L while I was taking data with Keith's jogger's GPS unit - pretty handy gadget I may add. I was able to record distance and time on take off roll and 50' obstacle under gross weight conditions. After a short climb out, Keith handed over the control to me to try out his Cozy IV. My first impression was that the control was much firmer in the air than on the ground (because of the air resistance) - but the plane was quite sensitive. I did some climbs and turns over Lake Matthews while observing his glass cockpit - I don't think I need to try very hard to like this

. As we enjoyed the beautiful sunset, Keith set up his GPS and Trio autopilot that guided us back to Chino. Keith made a perfect landing at 26L. Two notable experiences: the air vent delivers quite a bit of cool air during flight and I was very much at ease inside the cockpit the second time. Really enjoyed the flight and I think I'll be very comfortable with my Cozy when it is completed. Thank you Keith!
Visitor from Washington DC (August 2007)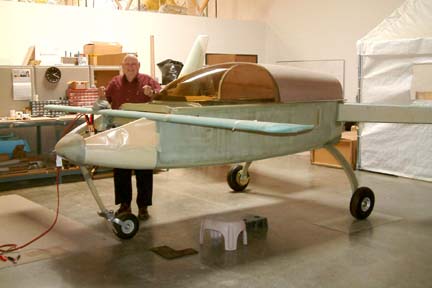 Unlike some of the fortunate 'retired' Cozy builders and flyers, I do have to work for a living as most people do. I had an on-site program review by Bob Reams from the Army Research Laboratory, Washington DC. During our afternoon break (you know how everyone nods their heads (and agreeable) when 2:30pm comes around after a nice lunch

)... Bob decided to take a quick visit to my Cozy project and I was happy to comply. We discussed all the nice design features of the Cozy with special interest to the antenna positions and functions. Ever wonder why the Army folks are always interested in antenna configurations? I was going to demonstrate the retractable nose gear, speed brake, landing light and the electric pitch trim - but Murphy decided to drain all the juice out of the battery before hand

... Fortunately, I got him occupied with the ailerons, elevators and rudders. We had a great visit and Bob wanted to see me back in DC with the Cozy soon! Well, I think it will be years before that happens

.