This is going to be my favorite page for recording our Cozy building process. The purpose of this page is to record people related and unforgettable memories that made our journey so enjoyable and meaningful. When looking back, they will bring smiles and warmth to our hearts.
Visit By Former Co-Worker (February 2008)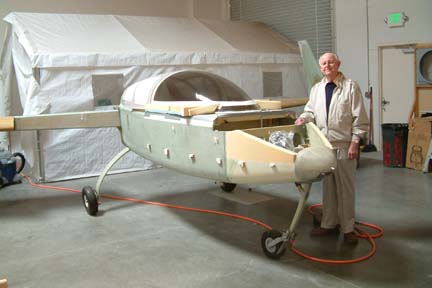 Pete Atkins and I worked in the same manufacturing organization of a Defense Electronics company around 30 years ago. Pete retired 10 years later (lucky him

) and I started my own company 1 year after that. We kept in touch on and off - its been 19 years since then! Pete wanted to check out my Cozy project a couple years back but never showed up till this morning. Retirement must have slowed him down tremendously

... Pete's background was in Manufacturing Engineering, obviously, a lot of questions on the Cozy building processes - almost like getting grilled by an QA inspector... Unfortunately, I was working on the rudder pedals and the canopy. Most of the controls were either disconnected or covered by the canopy - therefore limited demonstration was possible. However, Pete has a good imagination and acknowledged gracefully to my arm waving demo. All in all, we had a great visit and agreed that we should catch up with each other more often!
Cozy Builder David West (March 2008)
David West (Ft. Knox, Kentucky) was visiting Los Angeles for a work related meeting and had some free time for a visit. David is a few chapters ahead of me in the building process... that's good because, I can pick his brain on my next chapter. Sure enough, David had his laptop (but no gold bars from Ft. Knox) with a bunch of photos on his Chapter 22 - the strakes. We had a great exchange on our building experiences - I like his strakes, he likes my landing light...Turned out David is an accomplished instructor in military helicopters - some great stories and experiences that filled our dinner conversation. We continued our discussion past 11:30pm. It was a very enjoyable visit!
Visit By Business Team Members (March 2008)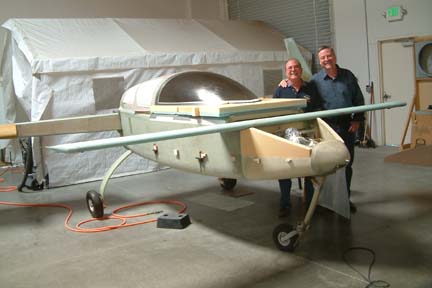 Occasionally, my work involves teaming with other companies on complex projects. Two project managers (Gene Simone & Bill Mudd) from one of my teamed companies visited me for a project strategy and planning session. After we wrapped up our intense work session (2 1/2 days later), they decided to take a look at my Cozy project. They were certainly intrigued with the shape and configuration of the Cozy..."where's the tail? Doesn't look like you have enough structure to hang the engine up front!" - but they volunteered to be my test pilots when the plane is done...
Visit By Well Respected Cozy Builder & Flyer (April 2008)
Wayne Hicks (who lives by the DC area) has been working intensely in the west coast in the past months took a Saturday afternoon off to visit Clark Canedy and me. Clark is finishing up his Cozy at the Chino Airport, which is about 3 miles from my home base. After we checked out Clark's plane, Wayne stopped by to assess my progress. He gave my semi-Cozy looking contraption a positive nod with the following thoughts:
- add a bit more curvature to the canard elevators;
- may have to sand down the upper firewall edges a bit to fit the engine cowling;
- take down a bit more foam off at the canard / nose cover junction for smoother lines;
- the center section spar to wing interface is ok;
- canopy to turtle back junction is ok;
- my heat shields are ok;
- offered some great suggestions on the nose gear cover.
Its always good to see Wayne again, He has been "showing me the way" ever since I started the project. His ideas and experience have been invaluable.