This is going to be my favorite page for recording our Cozy building process. The purpose of this page is to record people related and unforgettable memories that made our journey so enjoyable and meaningful. When looking back, they will bring smiles and warmth to our hearts.
Where Are We?
Time passed by quickly since we started our Cozy building journey 4 1/2 years ago. Many gracious and entertaining visitors had dropped by through the years and turned into delightful friends. Pieces of fiberglass and machine parts came together magically into the shape of an airplane - which may eventually find its way high up in the sky. Most importantly, it afforded us the opportunity to dream!
Visit By Cozy Builder (January)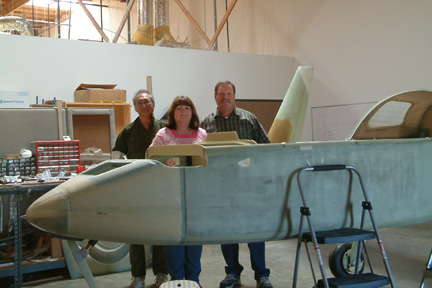 The Andres were my first visitors for 2009. Tim and Paula, who are building their Cozy in Redding, CA, were visiting southern California through the weekend and decided to pay a visit to our Cozy project. They arrived shortly after 9:30am and we did not waste any time exchanging our building experiences and ideas. We learned quickly that we are practically at the same building stage. Both of us were within weeks to start the strakes (Chapter 21) - but Tim is a faster builder with superb quality to boot. I know, because I visit his site often

. We covered lots of subjects - from rudder pedals to landing lights and throttle quadrants to canopy trims. The morning went by quickly and the Andres have to depart for another appointment around 12 noon. We had a great visit and promised to stay in touch, especially on the upcoming strake building chapter...
Second Visit By David West (April)
Dave visited about a year ago in March 2008. He's back in town again...to check out my progress

. Dave is also a Cozy builder from Ft. Knox, KY and he is several chapters ahead of me. He downloaded several chapters of pictures for my reference plus loads of good tips on my upcoming processes. Once again, we chatted till 11:30pm before he parted for home. Thanks Dave for a great visit - but got to remember to bring my gold bar next time!
Keith Sprurer (September)
It has been more than a year since Keith visited my project. So I invited him to come and check it out. Keith is a registered Technical Counselor with the Experimental Aircraft Association (EAA). I borrowed his expertise often to make sure I am building the Cozy safely. This time, I was just about to close up my strakes (fuel tanks) and I would like another pair of eyes to make sure that I did not miss out anything because once I close up the tanks, there's no turning back! Keith picked up from the last inspection he had with me. He checked out:
- The through bolt that tied the two brake cylinder hard points (at the nose);
- Discussed and inspected the removable gear up protection pad below the nose;
- Inspected the nose cover door;
- Inspected the one piece instrument panel cover and its mounting hinges (2 sides and 1 front);
- Checked the air vent and its construction;
- Checked the canopy strut location and function;
- Checked canopy handle;
- Reviewed canopy latching system (to be improved yet);
- Discussed canopy locking approach (not built yet);
- Inspected fuel line piping locations;
- Inspected fuel sumps, fuel screen locations and extra fuel drains;
- Discussed fuel contamination / debris relative to appropriate screen location;
- Inspected bottom strake skins;
- Inspected inside lining of strake cavity (fuel tank);
- Inspected fuel sight gauges;
- Discussed potential compatibility between EZPoxy vs MGS; and
- Engine selection.
We continued our discussion through dinner. Keith flew home in his Cozy - how nice! Thanks Keith for your support as always!
Ed Batist (November)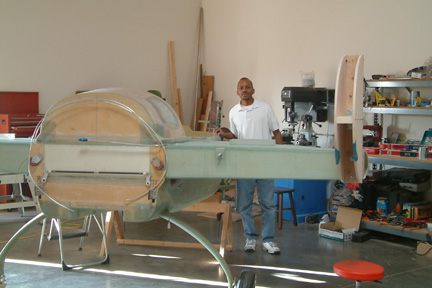 Ed is a new builder and would like to see a project that is in progress. I have just closed up my strakes and completed my pressure tests! Ed came by on a Saturday morning - on his way to Aircraft Spruce. I believe Ed bought a partially built Cozy project and he was anxious to dive into the building process. He is planning to start on the canopy chapter. We talked about various tools I used, the hot box for the epoxy, the Cozy forum and a broad range of Cozy related subjects. Ed helped me to realize that I got a very short memory on my past processes with the Cozy project

. Luckily, I was able to answer most of Ed's questions without referring to my notes and plans. I would like to extend my warm welcome to Ed for joining the Cozy family!
Pete Atkins (November)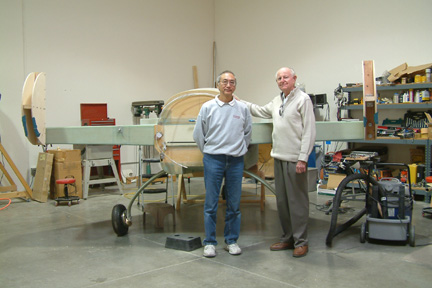 It's been more than a year since Pete visited me last February (2008). Pete has been enjoying his retirement for over 20 years now - we used to work in the same engineering company. Pete came from England originally and he still visits there almost yearly. Between his British accent and my Chinese accent, we have no problem communicating

. He called one morning and wanted to swing by and catch me for lunch. He also wanted to check out my progress since his last visit. As always, Pete is curious about the mechanics of the Cozy such as the fuel flow, the antenna locations, the engine mount (though I am not there yet), the weight and balance considerations, etc. Though the visit was short, it was always nice to see Pete again.
Jon Dembs (November)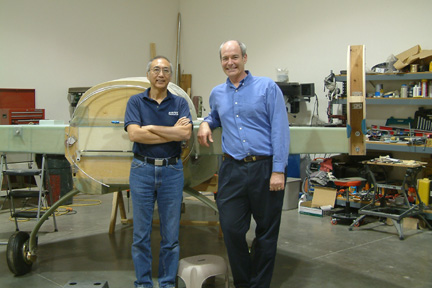 November has been a great month for visitors this year. Jon Dembs was visiting Los Angeles for business and had a couple hours for a visit. I certainly would not want to miss the opportunity to catch up with Jon. I visited his Cozy site often and have asked him numerous questions via the e-mail. I always receive prompt responses with pictures to boot! Jon had his first flight a few months ago with his highly envious Cozy that has that cool Honda Jet paint scheme

.
After a couple e-mail exchanges, Jon arrived around 3:00pm in the afternoon. I did not waste any time and jumped right into my laundry list of questions. Jon is a very knowledgeable and personable person. I learned that he used to be a race car driver and his business is related to the Subaru Engines. Now, that's a guy who knows engines! I did ask him why the engine in his Cozy is Lycoming and not Subaru...and I got a nice smile - just like the one in the picture

.
I showed him all the things copied from his project - including the roll over fixture at the end of the Center Section Spar! Note that Jon is quite a bit taller than I am. Since he is very comfortable in his Cozy, I have no worries in fitting in mine! Thank you Jon, for a great visit!
Santa Claus (December)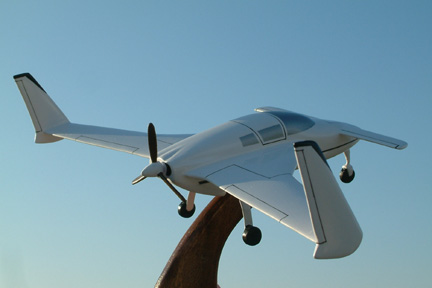 Santa was good to me this year

...He had his Elves hand carve a Cozy Mk IV model for my desk - my passion with the Cozy must be showing. The dimensions were perfect together with a 3 blade propeller and landing gears. The Elves even went a step further in adding clean lines with the paint scheme - great workmanship! I think, next year, I am going to ask Santa to spoil me a bit more...just send the Elves over to help me to finish the real thing

...please...please...please.
Thank you, Julian (my daughter's boyfriend) for being such a thoughtful Santa!