This is going to be my favorite page for recording our Cozy building process. The purpose of this page is to record people related and unforgettable memories that made our journey so enjoyable and meaningful. When looking back, they will bring smiles and warmth to our hearts.
First Visit of the Year (January)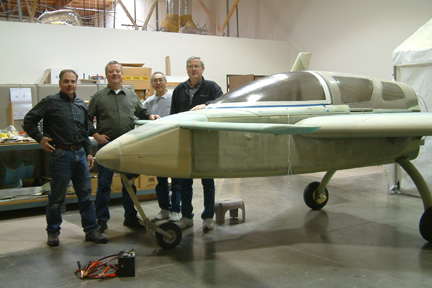 After a long intensive project (from work) that lasted for over 2 years, a few of my Team members met in California to consolidate and compose our final documentations & reports. They certainly enjoyed the weather out here, since they were having record snow fall in Denver and Washington D.C. this winter. After work, they were interested in visiting my Cozy project. One of the Team members completed a home built sailboat as his hobby, so we had a lot to talk about. I was able to demonstrate the electric nose lift, electric landing brake, ailerons, rudders and elevators. They just wondered where I find time to get from project start to this point

...The answer was simple, especially to Cozy builders, - every minute of all your spare time and all weekends...
Current Status (March)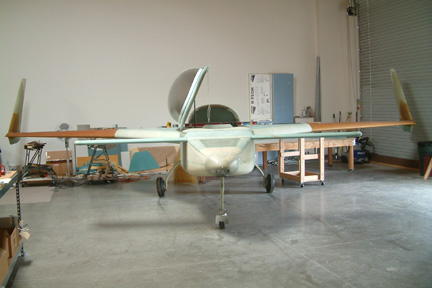 I have been building the Cozy for over 5 years now. It is one of the most gratifying projects - although I do not have a flying airplane, all the large structures and/or glass work has been completed. My next step will be the engine, electrical instruments and finishing. I was told the finishing section is the most time-consuming task - so no celebration yet! I disassembled the large tent behind the plane since it will not be needed anymore, giving me a bit more room for mounting the engine - when it arrives. With the plane rolled back against the wall, I was able to capture the entire plane in a single picture frame! The wing span is just a bit over 28 feet.
Re-visited by Wayne Hicks (July)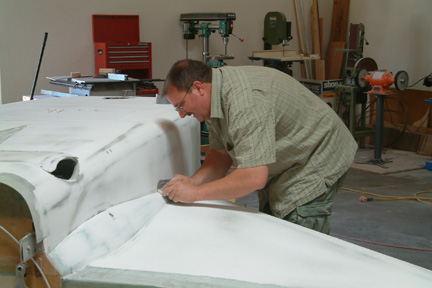 It's been 2 years since Wayne visited my project though I got pointers from him via email occasionally. His work has kept him traveling all over the country throughout the year. This time, he was out in Palmdale for a couple of weeks and he decided to visit Clark Candy (at Chino Airport) and then some time with my Cozy project. Wayne arrived around 10:30am and we met at Clark's plane at the Chino Airport. Clark is close to flying and he is getting ready to start up his engine. I took the opportunity to take lots of pictures on his engine installation because I bought the same engine as his.
After a quick lunch, Wayne swung by to check out my progress. I always get great ideas and pointers from Wayne from his visits. Since I was into filling and sanding these days, he showed me a few precision sanding techniques - note the hands on demonstration! He also recommended pre-filling the underside of my wings before final filling and sanding. It turned out to be one of my best sanding result to-date. We spent the rest of the days talking about sanding approaches for the rest of the plane (canopy and cowlings). Then we talked about more about different options available for our electrical panel. Our discussion continued through our dinner. Unfortunately, Wayne has ~2 hours drive back to Palmdale that night. Thank you Wayne for the visits and pointers!