This is going to be one of my favorite pages for recording our Cozy building process. The purpose of this page is to record people who visited and unforgettable memories that made our journey so enjoyable and meaningful. When looking back, they will bring smiles and warmth to our hearts.
Visit by Robert Asis (January)
My first visitor of the year was Robert Asis. Robert is a Cozy builder who is recently just started out. He wanted to borrow one of my rounded corner guides as well as checking out my project. Robert and his son arrived on a Saturday morning and we started to talk about glassing methods and tools. Robert is a delightful person. He made a 'high-tech' improvement on my epoxy mixing station (refer to my Chapter 3) with bells and whistles. If I recall correctly, his will control the temperature inside the box automatically and calculate the mixing ratio for you as well. You should visit his web site and see if he will make you one - for free

... We chatted on the project for many hours - it was a great visit!
Visit by Bill Ortel (March)
Bill Ortel is a well respected, experienced Cozy flyer stationed at Chino Airport. He came my and gave me a short visit looking over my plane. He checked out my fuel line routing, discussed alternatives for remote oil filters, locations for the oil cooler, some basic baffling ideas (which I was about to begin), and places to get a good price on Aircraft grade hardware. Bill gave me a thumbs up on my building quality - made my day

! Thank you Bill, for the boost...
Visit by Doug Pitzer (April)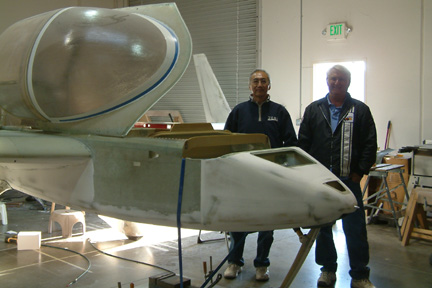 I was visiting Clark Canedy at the Chino Airport and decided to swing by to see Bill Ortel, just to say "Hi". I ran into Doug Pitzer, who flies a beautiful Cozy MK IV that he completed almost 7 years ago. Doug's plane is stationed at Corona Airport, CA. Doug was free that day, so I invited him to swing by and critique my project. I can certainly use an experienced eye over my project every chance I get

. Doug arrived at my Cozy factory shortly and I did not wait long before I started with my list of questions. We covered many areas from finishing to his locking mechanism - impressive stuff. He also helped me in determining:
- the correct size of my K&N air filter. You should ask him how the Cozy flies without one

;
- the correct length of my throttle and mixture cables;
- alternative heating arrangement for the Cozy;
- my canopy lock approach;
- oil miser alternatives; and
- my slightly warped canopy.
You ought to spend some time with Doug, he has a lot of interesting flying stories! Doug spent close to 4 hours with me that day. Thank you Doug for the GREAT visit!!!
Visit by Keith Spreuer & Don Herstein (May)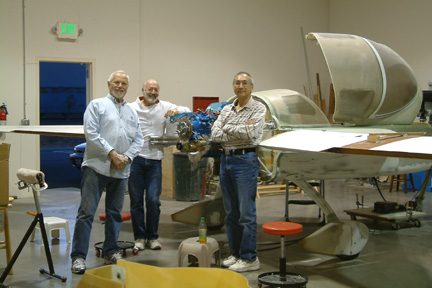 It was a beautiful Sunday afternoon when Keith and Don drove up from Compton to my Cozy factory. Both Keith & Don have completed their Cozies many years back and there are tons of experience between them as well. Keith wanted to check out my almost completed engine baffles. After some intense inspection, they gave me a thumbs up

- that was a nice encouragement. We had a great discussion on oil cooler mounting locations - since that would be my next task. We also touched on my canopy mounting approach, the fuel line routing and venting, finishing techniques, camlocs for my cowling (I used nut plates only) and cabin heating options. It was both educational and entertaining to hear the difference of opinions between these two. We continued our chat through a nice Chinese dinner complimented with a free Peking duck entree. What a treat and WONDERFUL visit. Thank you Keith and Don...and for the dinner.
Visit by Vance Atkinson & Clark Canedy (June)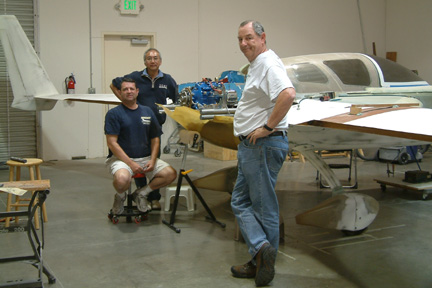 Vance Atkinson, a well respected Cozy builder & flyer, was visiting Clark Canedy in the past few days and Vance stayed with us during his visit. Besides his beautiful Cozy, Vance flies business jets all over the world and has logged over 28,000 flight hours - now, I call that serious flying!
I invited Vance and Clark to critique my project and give me some building pointers. They came by one evening and we touched on many many areas...They include:
- mechanical fuel pump drip line;
- fuel injection drain lines;
- clearance between cowlings and baffles;
- Instrument panel color selections;
- battery managements;
- oil breather alternatives;
- diffuser and baffles at the lower cowl;
- starter locations; and
- building the Vance's elevator trim assembly.
I learned a whole bunch that day...Thank you Vance and Clark!