INTRODUCTION
I have been intrigued with the Canard Design ever since I learned how to fly in 1976. I have never had the opportunity to fly in one, let alone build one. For many favorable reasons, my opportunity finally arrived - 28 years later – Cozy Plan #1100!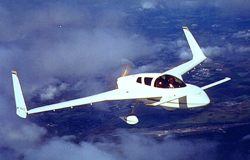 Why the Cozy? It's a cool looking canard (of course), sits 4 people, has a range of ~1,000 miles and cruises around 220 mph. There are several hundred of these planes flying per my last count and have an excellent safety record. It's a plans built – that means I only purchase the materials as I need them. There is no upfront down payment or deposit for kits. All it costs is $500 for the plans and you can start. Realistic build time is estimated around 3,500 to 4,000 hours. Between after work hours and weekends, I expect this project will take me a good 5 to 7 years. One significant factor for deciding on the Cozy is that it has a very active builder's site (Cozy Forum) where hundreds of builders communicate daily with each other (via the web) on the building process. The sharing of knowledge and camaraderie spirit of this forum is unprecedented. That means I will have a much better chance of succeeding the project. But the most important factor of all – is that my better half for 30 years (Susann) gave the nod of approval!

The purpose of this web site is to document My Cozy building journey. Methods I tried that work or don't work will be documented here. Information provided in this web, of course, is limited to my experience and build process on the Cozy - which is none. Therefore, this is not intended to be instructional or provide guidance. You can find a lot more information on this Cozy Aircraft through the Official and Unofficial Web sites.
------------------------------------------------------------------------------------------------------
Latest Update (10/10/2016)
After 12 years, 2 months and 21 days, my Cozy (N574CZ) took to the sky for its first flight!
All controls, cooling, engine and electronics performed well. Now I need to get current and be trained to tackle Phase 1 testing of this fantastic traveling machine.
To be continued...