Chapter 13 - Section 1
Reinforcing the Glass Strut
What's up?

In this chapter, we will build a nose gear box which contains the nose gear strut, electric gear retraction and extension assembly, the nose cover, the rudder paddles, master brake cylinders and the pitot-tube. I have decided to install Jack Wilhelmson's electric nose lift which will require a slight deviation from the plan. The electric nose lift will eliminate manual lifting of the nose in the future. This chapter is divided into several sections:
Reinforcing the Glass Strut Fabricating NG-30 Installing Worm Drive Assembly Box Assembly
Nose Floor & Sides Rudder Pedals Master Brake Cylinders Completing Nose Gear
Pitot & Static System Closing the Top Nose Door
Reinforcing the Glass Strut
I purchased the nose strut at the same time I bought the main strut - both from Feather Lite. The top end of the nose strut was cut a bit crooked, so I took a palm sander to it. Then I measured and cut it to 25 3/4" per plan. Actually, I cut it a bit long, then sanded it down to the correct length.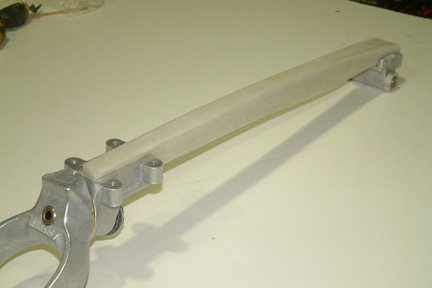 I have to do quite a bit of sanding to make the strut fit into MKNG-15A. The fit to MKNG-6 was not bad, just a few passes with a palm sander provided enough clearance for the 2 plies of BID later. MKNG-3 was a bit wide for the strut, I will need to add more layers of BID to get a snug fit. That will be added after the first 2 plies.
After I trial fit all three components, I rounded off all edges and roughed up the surfaces with a 36 grit sand paper. I then glassed the aft side of the strut, peel plied and let cure overnight.
The next day, I removed the peel ply, trimmed and sand flushed the glass edges along the strut. Then I roughed up the forward and side surfaces of the strut, applied epoxy, glassed and peel plied per plan.
I trial fit the strut again after the glass cured. This time I had a tough time fitting the strut into MKNG-5A. I had to do a bit of Touch Up sanding to make it nice and snug. MKNG-6 fit perfectly and no touch up sanding was required.
Reinforcing the Glass Strut Fabricating NG-30 Fabricating NG-30 Installing Worm Drive Assembly Box Assembly
Nose Floor & Sides Rudder Pedals Master Brake Cylinders Completing Nose Gear
Pitot & Static System Closing the Top Nose Door